TOP cele mai bune restaurante japoneze
Japanese cuisine has taken London by storm over recent years, and has fast become one of the most fashionable cuisines in the capital. Considered as a delicate, subtle and highly visual cuisine, you'll often find Japanese food to be beautifully presented and served in small portions. Our favourite thing about this is that it means that you can try loads of different things over the course of one meal. There are many typical dishes within Japanese cuisine, such as sushi, sashimi, tempura, teriyaki and yakitori, each and every one a work of culinary art in its own right and requiring a huge amount to skill to do well.
YOU MIGHT ALSO LIKE
Regardless of what type of Japanese food you are looking for, you can be sure that there will be somewhere in London that does it, and does it well. From Michelin-starred rooftop sushi restaurants to intimate noodle joints nestled away in the streets of Soho, the capital has Japanese restaurants to suit all occasions. What's more, many of these spots are run by chefs who have successfully run restaurants in Japan before bringing their skills over the UK, meaning you can be assured of high-quality, authentic Japanese food.
Given the amount of choice, you're probably wondering where to start when looking for an amazing Japanese restaurant in London? Well wonder no longer, as we've searched the city high and low to discover London's best Japanese food – whether it be sublimely fresh sashimi, a steaming ramen broth or the latest deep-fried delicacy. Our guide below covers all price points and lots of different parts of London meaning that wherever and whatever you're looking for, there should be something for you. So next time you're on the search for a memorable Japanese meal in London, be sure to check back here.
SKIP TO THE BEST SECTION
Best Japanese restaurants in Central London
Sushi, ramen, yakitori, rice dishes, udon dishes – Central London has it all. Head to the city centre for a variety of vibes and styles, from the laid back counter dining of Koya to the highrise glitz and glam of Aqua Kyoto.
Koya, Soho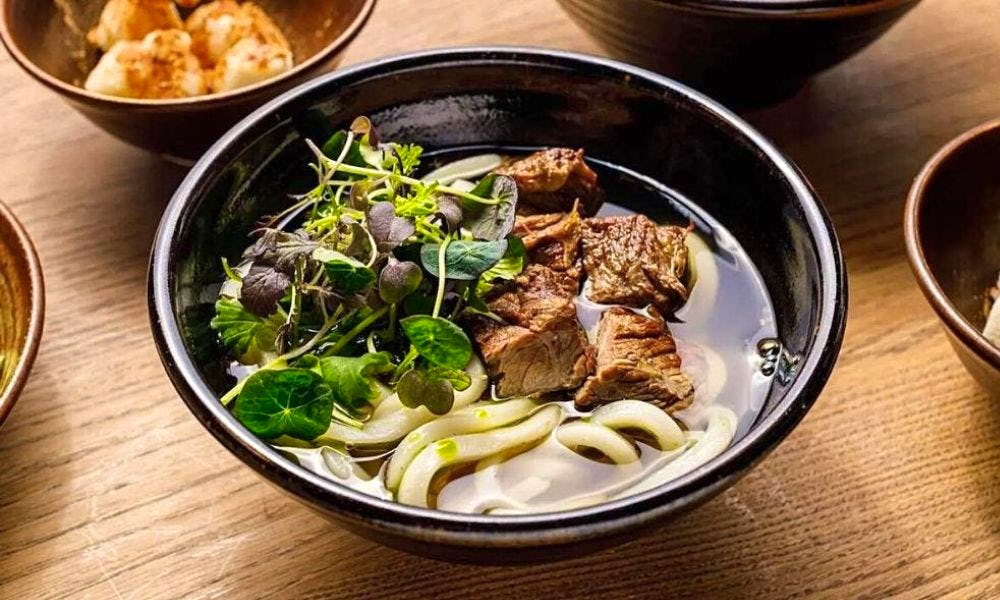 What: If you're looking for a bustling noodle bar in the heart of Soho, head to Koya and grab a seat at the counter for the full experience. Choose from small plates like karaage, braised pork belly or the famous tempura. The main event, however, is the udon – handmade every day, these pillowy noodles are not to be missed; they come hot or cold, with a range of toppings like duck, beef, chicken, lamb, pork, mackerel and vegetables.
Where: 50 Frith Street, Soho, W1D 4SQ
Book now: Koya
Aqua Kyoto, Soho
What: As you'd expect from this high-end group, Aqua Kyoto serves pricey Japanese food with more than a bit of razzmatazz. Gorgeous kimono silk-padded booths give way to a dramatic dining room with its showpiece sunken sushi bar where you can watch the chefs hard at work crafting luxurious items for your enjoyment. Dishes such as king crab tempura with crab miso and Wagyu maki rolls aren't cheap, but lunchtime bento boxes and sashimi selections are more affordable.
Where: 240 Regent Street (entrance 30 Argyll Street), Soho, W1B 3BR
Book now: Aqua Kyoto
Shoryu Ramen, Soho
What: In spite of being one of a large chain, this noodle joint is as authentic as they come. The serene dining room at Shoryu's Soho outpost is full of communal tables, making it perfect for groups, while friendly and efficient staff deposit large bowls of steaming ramen and perky sides from the open kitchen to your place setting in true fast-food style. Prices are middle-of-the-road and you'll find eastern-style cocktails and a myriad of refreshing teas, plus rare and premium sakés on the drinks list.
Where: 3 Denman Street, Soho, W1D 7HA
Book now: Shoryu Ramen Soho
Engawa, Soho What: With fewer than 30 covers and minimal décor, there isn't too much to distract from the open kitchen's theatre at this hidden Soho gem. Watch as the skilful chefs prepare morsels of sashimi, sushi and snacks alongside extravagantly presented salads and the main event here: Kobe. Engawa is one of just a handful of Japanese restaurants in London to offer this exclusive beef (which is often referred to as the 'caviar of meat') but be warned, whatever the cut, it comes with a lofty price tag.
Where: 2 Ham Yard, Soho, W1D 7DT
Book now: Engawa
Kazu, Fitzrovia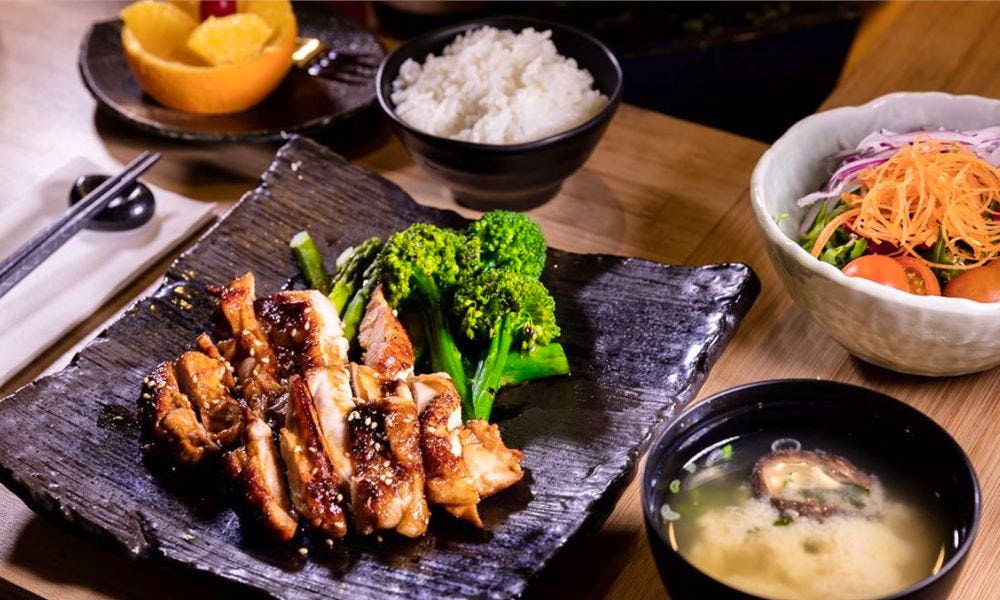 What: Kazu blends traditional minimalist looks (bare wood, a sushi counter, and an open kitchen) with a friendly welcome and some contemporary flourishes on a menu that's both generous and not as expensive as it once was. All-in set lunches offer particularly good value for the likes of chicken teriyaki, prawn tempura and tofu steak – all served with miso soup, rice, salad and oranges for dessert – though expect to pay more for standalone sushi.
Where: 64 Charlotte Street, Fitzrovia, W1T 4QD
Book now: Kazu
Roketsu, Marylebone What: Roketsu is a special place. This meditative dining room is home to one of London's most authentic kaiseki experiences, serving hyper-seasonal menus that celebrate the best produce of each month. A seat at the 400 year old hinoki wood counter isn't cheap, but as a complete experience, there's nothing else like it.
Where: 12 New Quebec Street, Marylebone, W1H 7RF
Book now: Roketsu
Chotto Matte, Soho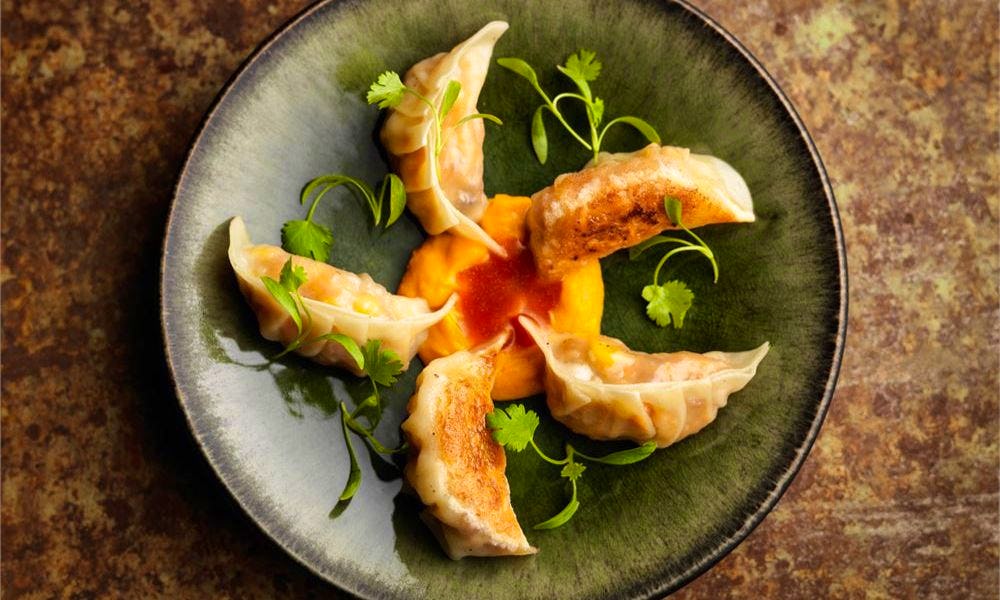 What: Spread across two floors in a prime location off Soho Square, this neon-splashed nightclub of a restaurant is as trendy as they come. A champion of Nikkei cuisine (a fusion of Japanese and Peruvian), Chotto Matte is flashy and bold in every respect, from brightly coloured sushi platters to the inventive cocktail list. High prices for small portions make this an expensive prospect, so if you're on a budget, we'd suggest one of the better-value set menus.
Where: 11-13 Frith Street, Soho, W1D 4RB
Book now: Chotto Matte
RAI, Fitzrovia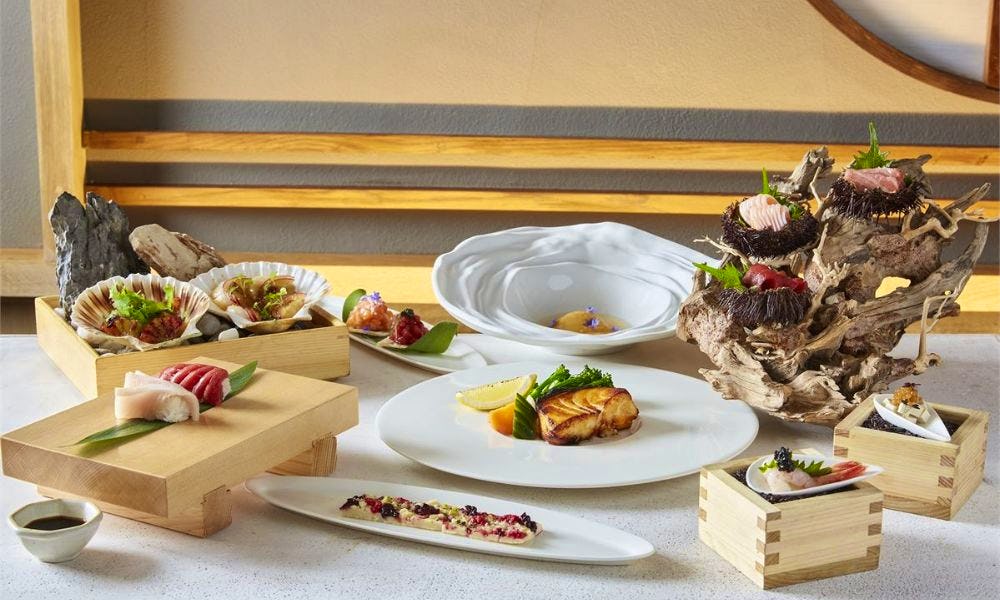 What: RAI's multi-course omakase-style menu is precise, and does extraordinary things with a wide spectrum of seasonal ingredients. A choice of two tasting menus includes dishes like Orkney scallop with umeboshi plum, ponzu and citrus, and aubergine with miso, sesame and shaved truffle. This admirable restaurant also has green credentials – the tableware is all made using recyclable materials.
Where: 3 Windmill Street, Fitzrovia, W1T 2HY
Book now: RAI
Dai Chi, Soho What: A second restaurant from the Italo-Japanese fusion team at Angelina, Dai Chi delves into Japanese kushikatsu (skewered and deep-fried dishes) and, frankly, does some amazing things with a potentially limited concept. Not just delicious, Dai Chi is remarkably affordable too – perhaps one of London's best hidden gems.
Where: 16A D'Arblay Street, Soho, W1F 8EA
Book now: Dai Chi
Best Japanese restaurants in West London
Traditionally home to the more glamorous side of London dining, West London's Japanese restaurants certainly trend towards opulence. Go west if you want to dine in luxury, and admire some meticulously-crafted, Instagrammable interiors.
Sachi, Belgravia What: Housed in the extremely stylish Pantechnicon, Sachi is an elegant dining room with pared-back, Nordic-style decor. On the menu is regional Japanese cooking that you don't always see in London restaurants. Try the crispy monkfish with rice crisps and yuzu kosho tartar, or the quail with plum teriyaki. There is a huge selection of sushi and sashimi too, along with sommelier-selected rice wines and whiskies to accompany
Where: 19 Motcomb Street, Belgravia, SW1X 8LB
Book now: Sachi
Dinings SW3, Belgravia What: Unlike its plain Marylebone sibling, this glossy street-level sushi bar gives way to a sunken dining room that's as well-groomed as the resident Chelsea clientele that frequents it. It's an arresting setting for excellent modern Japanese cooking that artfully blends tradition with innovation, and oriental technique with European ingredients. Dinings SW3's prices are at the very top-end, but for dishes such as melt-in-the-mouth Wagyu tataki, silky double-cooked aubergine with sweet miso, and sweet-fleshed langoustine grilled on the Josper, they're perfectly justified.
Where: Walton House, Lennox Garden Mews, Belgravia, SW3 2JH
Book now: Dinings SW3
Koji, Parsons Green What: Slightly out of the way in Parsons Green, but none the worse for it, this sleek restaurant is a must-visit for sushi enthusiasts. Centred around a gorgeous sushi bar, the interior suggests serious dining, but there's plenty of fun to be had under the feather chandeliers. Prices can be on the expensive side, but the offering is huge, encompassing sushi and sashimi, as well as grilled fish, sashimi tacos, kushiyaki skewers and tempura dishes.
Where: 58 New Kings Road, Parsons Green, SW6 4LS
Book now: Koji
Endo at the Rotunda, White City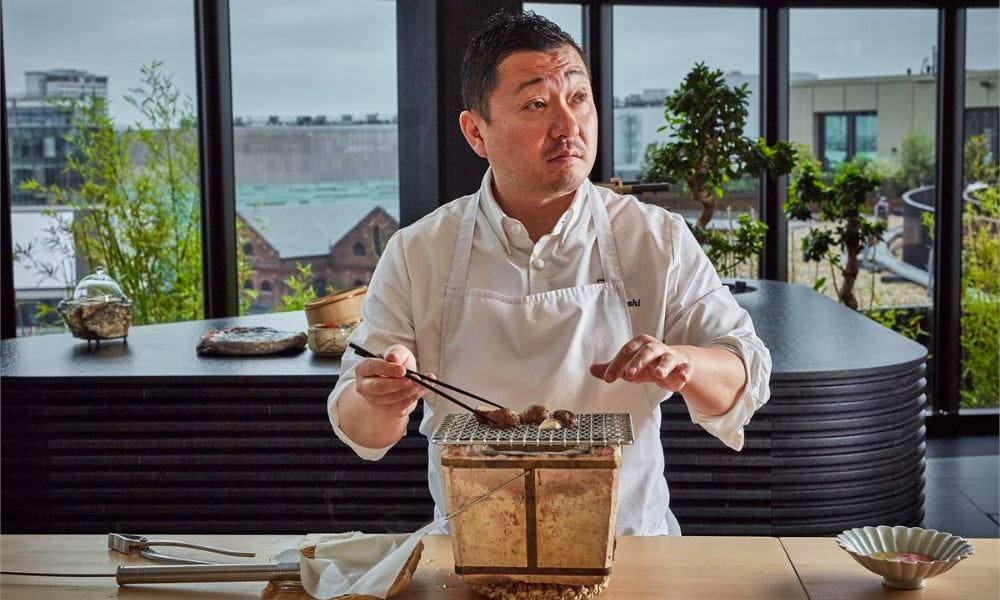 What: Arguably London's premiere omakase experience, and certainly one of the great Japanese restaurants in Europe, Endo Kazutoshi's White City flagship is a restaurant that continually astounds even the very best. As Michel Roux Jr told us in our interview, Endo-san served him an oyster that was so good it brought him to tears! Kazutoshi takes guests on an odyssey of Japanese flavours, over the course of multiple hours at a single, majestic counter. Seats book up far in advance, so book now to avoid disappointment in six months' time.
Where: 101 Wood Lane, White City, W12 7FR
Book now: Endo at the Rotunda
Tokimeite, Mayfair What: Situated in the heart of Mayfair, this upmarket Japanese restaurant specialises in a 'kappo' style menu of small dishes, bespoke for each diner and prepared as you watch. Tokimeite majors in luxury ingredients including lobster, king crab and Wagyu steak, so it should come as no surprise that prices are high – even by Mayfair standards. Impeccable service and attention to detail help to make dining here worth the cost though.
Where: 23 Conduit Street, Mayfair, W1S 2XS
Book now: Tokimeite
The Aubrey at Mandarin Oriental Hyde Park, Knightsbridge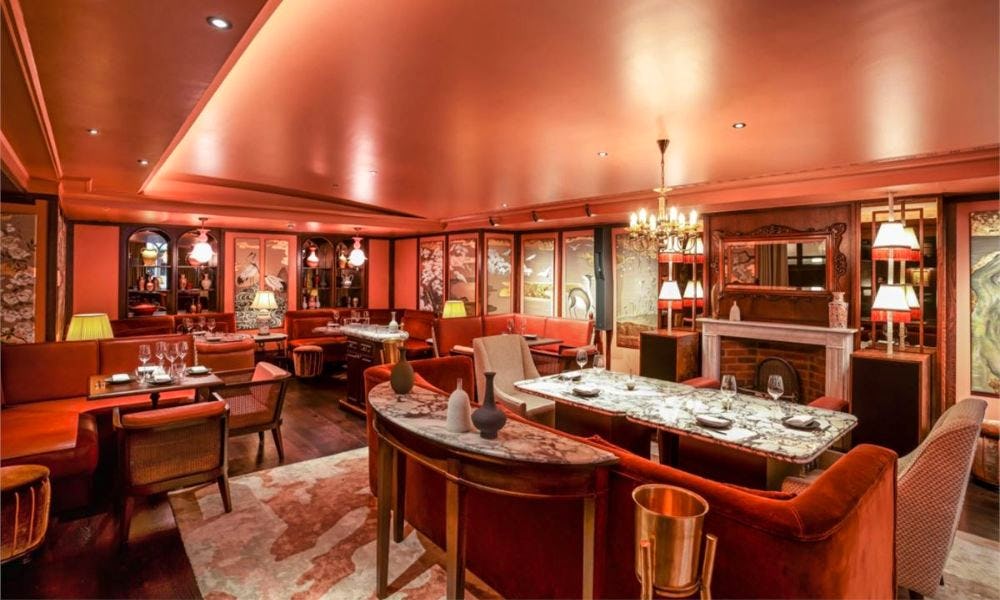 What: The Mandarin Oriental's take on an izakaya drinking den is, predictably, not quite as gritty as the real thing; the place is bathed in a dusky red glow, and you're welcomed into plush velvet seating, rather than wooden chairs. The food is outstanding, though – order in sushi and sashimi platters alongside gyoza, charcoal chicken karaage and Wagyu oxtail with bone marrow fried rice.
Where: Mandarin Oriental Hyde Park, 66 Knightsbridge, Knightsbridge, SW1X 7LA
Book now: The Aubrey at Mandarin Oriental Hyde Park
Titu, Mayfair What: Billed as a gyoza specialist, this tiny restaurant just moments from Green Park tube station is a great little find. Titu is far from fancy, but what it lacks in terms of décor it more than makes up for in excellent quality modern Japanese food. As well as creative dumplings (think chicken and foie gras, and Wagyu and black pepper), you'll also find a selection of small plates and a variety of desserts. Prices aren't cheap by normal standards, but are something of a bargain for Mayfair.
Where: 1A Shepherd Street, Mayfair, W1J 7HJ
Book now: Titu
Best Japanese restaurants in East London
East London is usually the trendier, more innovative side of town but it's also home to two of London's most consistent Japanese restaurants in Roka Canary Wharf and the towering Sushisamba City. If you're feeling a little more adventurous, try Angelina's Italo-Japanese fusion wizardry.
Nobu Restaurant, Shoreditch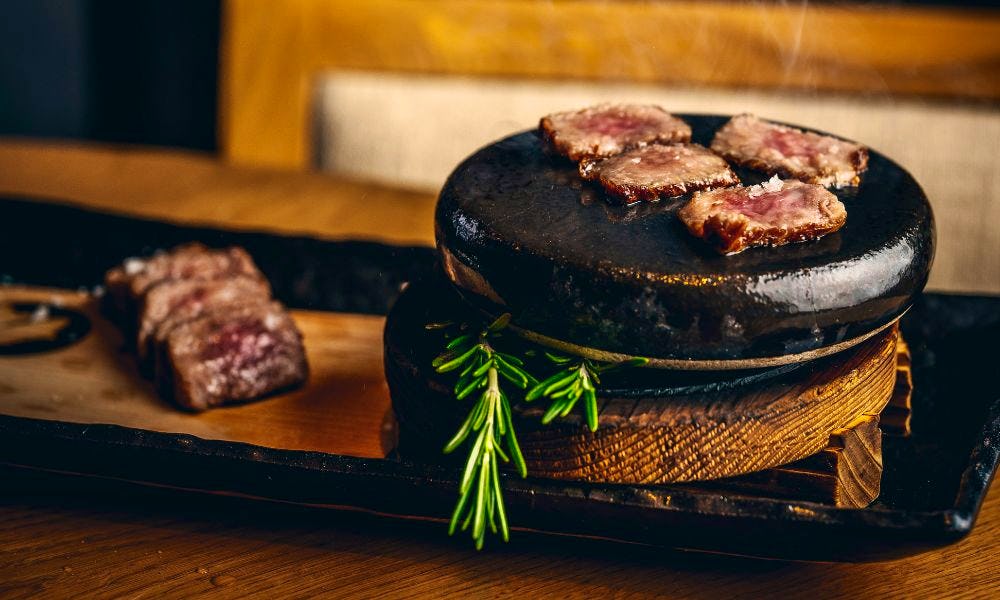 What: Famous for its miso black cod, crispy rice bites and its celebrity-pulling power, Nobu is hardly an undiscovered gem. However, there's so much more to the brand that the snippets you see on Instagram. Here in the Nobu Hotel London Shoreditch the restaurant is a calm oasis in the middle of the city, offering a slick, pared-back dining room and an army of hospitality professionals ready and waiting to ensure your meal is one to remember. Kick off with Japanese-style tacos, edamame, and sushi before making your way through the hot section where luxurious ingredients – like lobster and wagyu – reign supreme. It's not cheap, but for special occasion dining Nobu still has the wow factor.
Where: 10-50 Willow Street, EC2A 4BH
Book now: Nobu Restaurant Shoreditch
Sushisamba City, Liverpool Street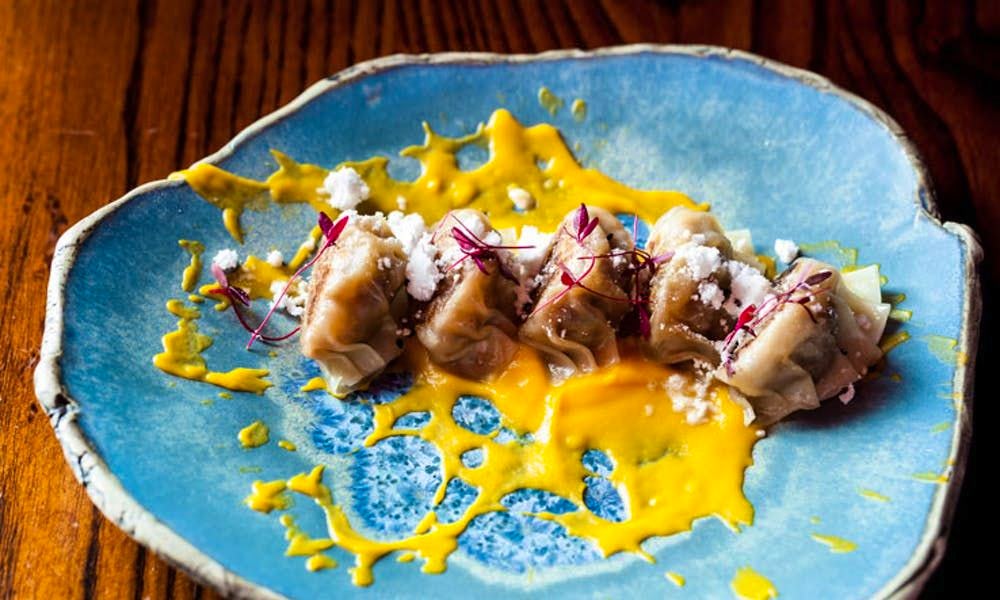 What: From the moment the lightning-quick glass elevator whisks you up to the 38th floor of the Heron Tower to the sexy, show-stopping cocktails, razzmatazz restaurant and thrilling fusion of Japanese and Latino cuisine, you can be sure you're in for the ultimate spectacle. Sky-high pricing and a feeling of uppity exclusivity (including a strict dress-code policy) might not be everyone's cup of saké, but Sushisamba remains a high-octane, fun-loving destination for those willing to wait for a reservation.
Where: Heron Tower, 110 Bishopsgate (38-39th floor), Liverpool Street, EC2N 4AY
Book now: Sushisamba City
Pham Sushi, Old Street What: Pham Sushi won't win any awards for décor or plate presentation, which is basic at best, but what this tiny eatery lacks in interior design, it more than makes up for with its extensive and uniformly impressive selection of sushi and sashimi. Most people come for raw stuff, but soups, noodles, rice dishes, bento boxes and some spot-on tempura are solid choices too. Wash it all down with beer, saké or green tea.
Where: 159 Whitecross Street, Old Street, EC1Y 8JL
Book now: Pham Sushi
Roka Canary Wharf What: Attentive service and consistently top-notch food make this glamorous yet lively modern restaurant, which now has multiple outposts across the capital, a draw for all types, from office workers to families. The heart of the operation at Roka Canary Wharf is the robata grill with its line-up of fire-licked specialities such as black cod marinated in yuzu miso, but you'll also find well-made modern-day sushi and sashimi, snacks and specialities. Prices are in keeping with most Japanese restaurants in London (not cheap), but there is a decently-priced lunch menu.
Where: 4 Park Pavilion, 40 Canada Square, Canary Wharf, E14 5FW
Book now: Roka Canary Wharf
Angelina, Dalston What: The idea of Italo-Japanese fusion might trigger your flight reflexes but hold on, because these two actually have a lot in common. Angelina's inventive tasting menus combine Italian and Japanese flavours effortlessly, in dishes like sweetcorn kakiage and lardo, mackerel, yuzu and Parmigiano, and Hokkaido milk bread with apricot and miso.
Where: 56 Dalston Lane, Dalston, E8 3AH
Book now: Angelina
Best Japanese restaurants in South London
Turns out, Brixton really loves Japanese food – who knew? Head to the end of the Victoria line for a trio of cracking Japanese restaurants that are all very different, including Temaki – one of our favourite restaurants of 2022.
Temaki, Brixton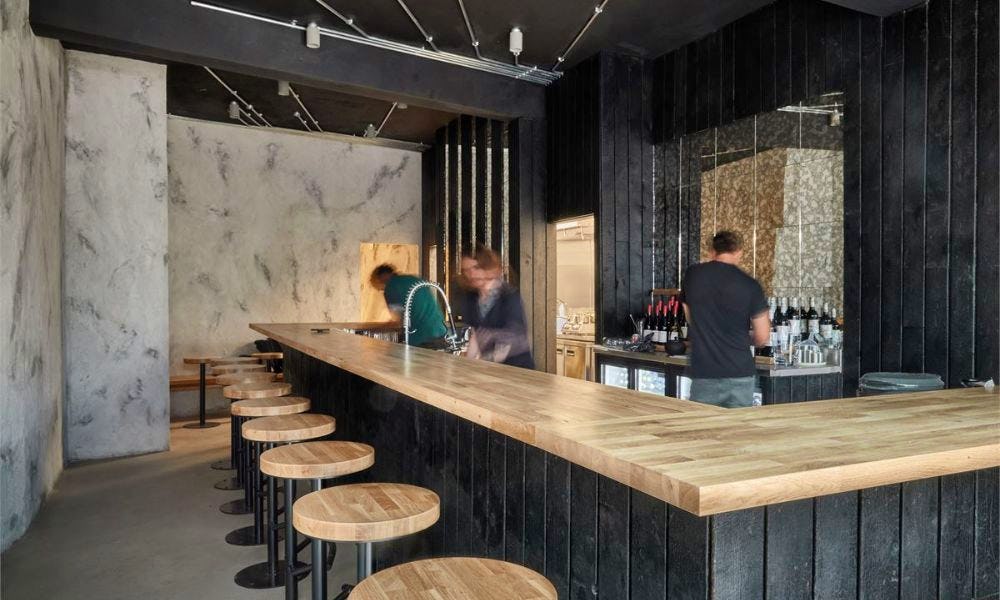 Why: Temaki is a more recent addition to the London sushi scene, but has won lots of fans since 2021 – not least ourselves, as we place it at number 6 in our Top 100 London Restaurants 2022. This relaxed, counter-dining eatery housed in Brixton's Market Row, has a simple offering: hand rolls of incredible sushi, prepared less than a metre in front of you. Expect fillings like BBQ eel, prawn tempura, otoro, salmon and even lobster. Each roll is seasoned differently, with ingredients like yuzu and spicy koji mayo. We recommend the sake flight, a perfect accompaniment to the delicious rolls. There are also top-notch side dishes such as monkfish karaage. Best of all, however, is the price – it's not difficult to eat here for under £35.
Where: 12 Market Row, Brixton, SW9 8LB
Book now: Temaki
Nanban, Brixton What: Tim Anderson won MasterChef many years ago now, but he's still busy working across his Nanban restaurants, knocking out bowls of crowd-pleasing ramen and innovative Japan-inspired plates like bacon and curry butter yakisoba, yakiudon, and chicken karaage with yuzu-chilli mayo. The famous goat ramen is still available too, and is not to be missed if you've never tried it before.
Where: 426 Coldharbour Lane, Brixton, SW9 8LF
Book now: Nanban
Okan Brixton Village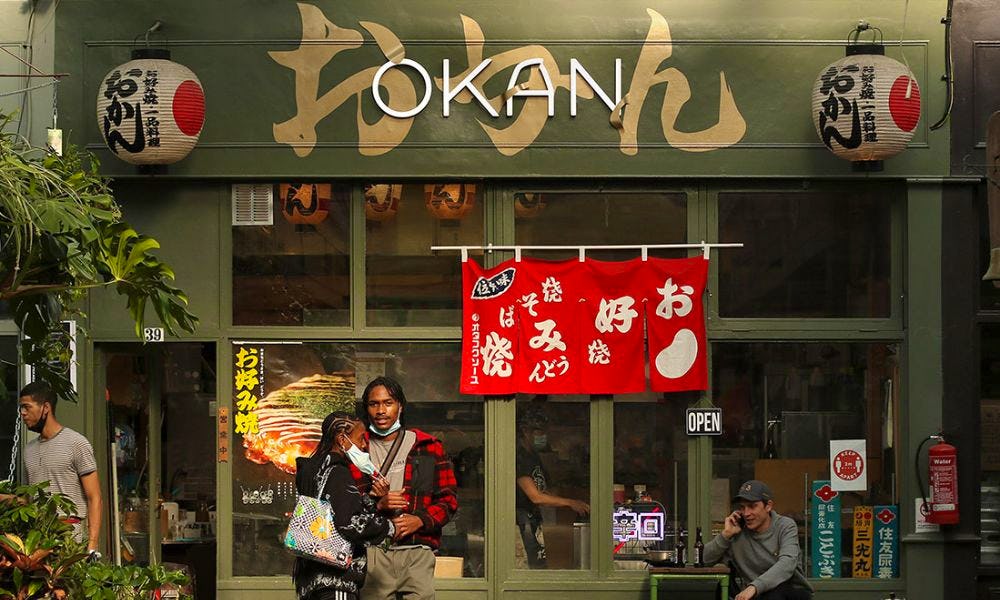 What: Brixton clearly loves Japanese food, and Okan has been around for a while now – this okonomiyaki specialist was here in the early days of Brixton Market, and now has three outposts, including one on the South Bank. The Brixton site specialises in okonomiyaki pancakes, which come with a variety of toppings and fillings – you can even create your own.
Where: Unit 39 Brixton Village Market, Brixton, SW9 8PS
Book now: Okan Brixton Village
Best Japanese restaurants in North London
Islington is another good area to head for if you're searching for good Japanese fare, with a number of hidden gems lying in wait along Upper Street.
Hot Stone, Islington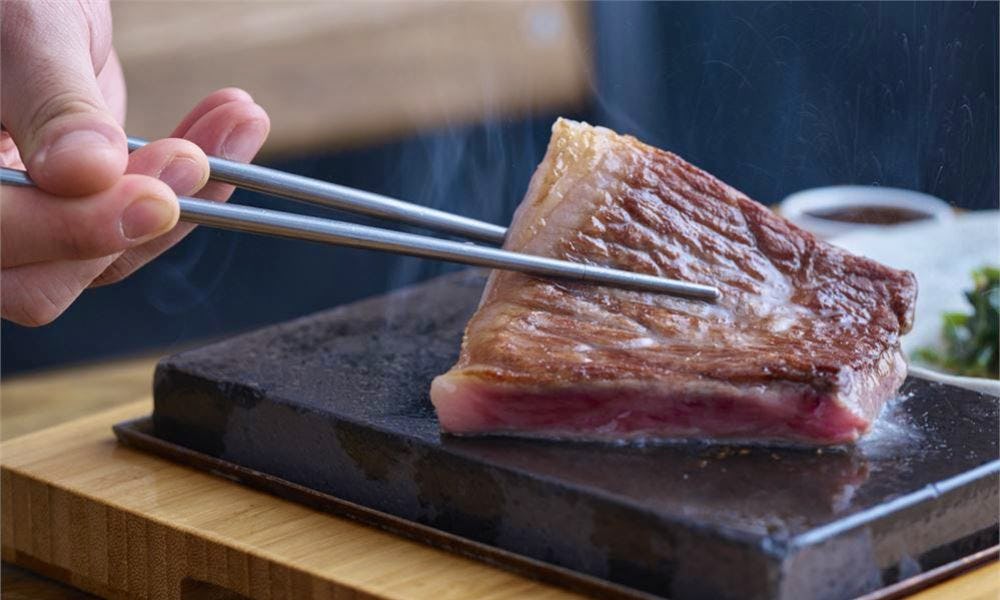 What: As the name suggests, hot stone dishes are the thing to try at this Islington gem. Sizzling, super-heated slabs of granite will arrive at the table with your choice of protein, which you're then free to cook to your liking. If that doesn't appeal, there are plenty of other dishes which impress, as well as a short and straightforward list of saké and international wines. Hot Stone is by no means a cheap eat, but prices aren't outrageous for the quality.
Where: 9 Chapel Market, Islington, N1 9EZ
Book now: Hot Stone
Tanakatsu, Islington
What: Taking its inspiration from the katsu houses of Japan, Tanakatsu may not have the glitz and glamour of some of the other restaurants in our guide, but what it does have is a stonkingly good, and reasonably priced menu. This cosy, casual spot just moments from Angel station offers everything from sushi and sashimi to a signature range of crispy katsu dishes. With a number of different sakés also on the menu, this is the place to come for some affordable fun, Japan-style drinking and dining.
Where: 10 Wakley Street, Islington, EC1V 7LT
Book now: Tanakatsu
Jiji, Islington What: Jiji is not your average Japanese restaurant – that much is clear from the eclectic artwork on the walls. Jiji's menu combines Middle Eastern and Japanese flavours, though not in the same dishes. Sushi is smartly prepared and served alongside main plates that include aubergine carpaccio with crispy onions, nuts, feta and jalapeno sauce, and grilled miso salmon.
Where: 6G Esther Anne Place, Islington, N1 1WL
Book now: Jiji
Specifically craving sushi? Take a look at our guide to the best sushi restaurants in London.